Def Jam co-founder and hip hop pioneer Russell Simmons has stepped into the NFT game because, he says, "respect for the founding fathers of hip hop needs a reboot."
Simmons and Snoop Dogg curated an upcoming NFT collection called Masterminds of Hip Hop, first announced in August at a launch event in New York City. The digital trading cards feature animated art and audio clips from Simmons, Snoop Dogg, Chuck D, Doug E Fresh, MC Sha-Rock, Grandmaster Caz, Eddie Cheeba, and other hip hop legends.
"The NFTs are museum quality, and will increase in value," Simmons says, "but the stories of these artists are priceless."
Simmons spoke on a live Zoom on Tuesday night hosted by Tawana Rivers of The 10K Project and Talisha Shine of Black Blockchain Consultants. Joining Simmons, Rivers, and Shine in the discussion were Sharon Green, aka MC Sha-Rock, the first female emcee featured in the collection, and Hassan Miah, CEO of Paybby. Simmons partnered with Paybby and NFT marketplace Tokau to list the NFT collection, which goes on sale October 10.
When a viewer on the Zoom pointed out the high Ethereum gas fees associated with NFTs, Miah pointed out that the Masterminds of Hip Hop NFTs are BSC-20 tokens on Binance Smart Chain. On the Paybby web site, fans can purchase the Masters of Hip Hop NFTs with a credit or debit card without buying and exchanging crypto—a tactic that helped NBA Top Shot attract mainstream collectors.
Simmons says the NFTs are a way to get compensation and credit for artists he feels did not all get the compensation or recognition they deserved at the time. He also would like to do a book and documentary series to go along with the NFTs.
Snoop Dogg uses the same word as Simmons to describe the collection: respect. "The reason why I'm involved is because I want to show respect to the foundation, to the founders," Snoop said in a video clip Simmons tweeted on September 30. "All of the originators and creators, this is for y'all."
And having Snoop aboard is likely to get the collection extra attention in the crypto world. Snoop, who revealed himself last month as Cozomo de Medici, an NFT whale with a $17 million collection, has quickly become a prominent voice in NFT art.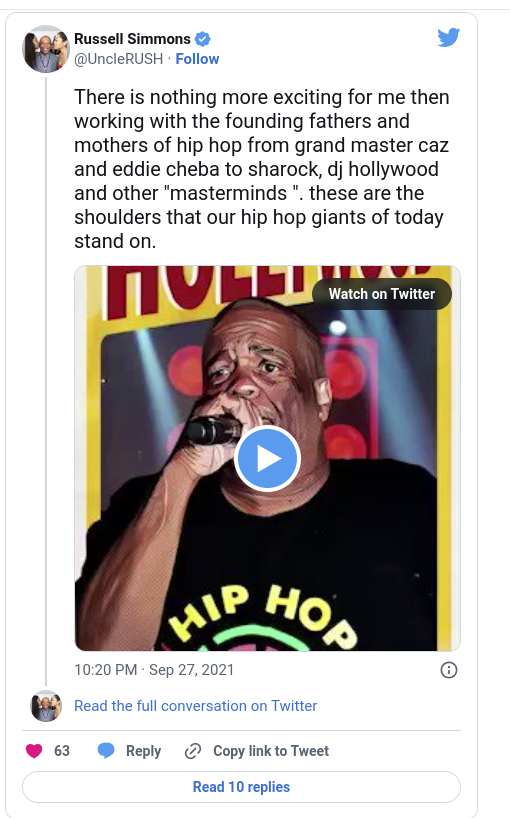 "When we capture digitized information, it's not just to digitize it for posterity," says Shine of Black Blockchain Consultants, "it's actually to use it as a commodity and to leverage it with regard to information gathering."
Shine went on to say that NFTs are a live and dynamic thing, and thanks to NFTs, she can now participate again (digitally) in events she remembers experiencing when she was growing up.
"When I think about artists today, I love that now they have something to tap into, to really learn the history of hip hop," the 10K Project's Rivers says. "It is this rich culture, it's this amazing life force of its own. We have to capture these stories ASAP, while these artist are still here to tell their story."